Are you a student living with epilepsy entering your first year of university in September? If so, you have an opportunity to apply for an OBCL Epilepsy Scholarship Award — and OBCL president Lawton Osler is hoping to see lots of applicants.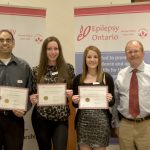 "I'm looking for as many people as possible to apply," Osler tells Voices of Epilepsy.
Osler is understandably proud, as his company sponsors the scholarships. Many students living with epilepsy face significant challenges stemming from their condition, coupled with the financial challenges many students face when having to pay for their education.
Receiving one of the six $1,000 scholarships can alleviate some of the financial burden that comes with pursuing post-secondary education, and is a step towards helping young people maximize their potential, Osler notes.
This, he says, is the No. 1 importance of the scholarships.
The scholarships have been sponsored by OBCL since 2006. Their history goes back to the early 2000s when two pharmaceutical companies — first Pfizer, then Lundbeck Canada — offered the scholarships.
Osler, a past Epilepsy Ontario president, was involved with the committee that judged the essays during this time. When Lundbeck stopped sponsoring the scholarship eight years ago, Osler saw a chance to help young Ontarians living with epilepsy finance their post-secondary education.
"I saw this as an awesome opportunity for me to give back," he says.
The scholarships are being awarded to students who are graduating high school and entering their first year of post-secondary education.  The scholarships will be presented at a ceremony June 6. The deadline for application is May 1.
Last year's scholarship recipients were Chloe Gallagher (Burlington), Tori Gleason (Smiths Falls), Alexander Johnson (Mississauga), Kirsten Leusink (Cambridge), Katelyn Lewis (Thunder Bay) and Suzanne McGuire (Niagara Falls).
Another past OBCL scholarship recipient is Melanie Jeffrey, an Epilepsy Ontario board member and an outspoken advocate for epilepsy awareness.
Every year, up to six Ontario students win a $1,000 scholarship for post-secondary education. As part of their application package, students must submit a personal essay under that year's theme.
Students wishing to apply for a 2014 OBCL epilepsy scholarship must do so before May 1 by 5 p.m. You can print a copy of the scholarship application by clicking here.
Writer: Deron Hamel
If you have feedback on this story, or have a story of your own that you would like to share, please contact the newsroom at 800-294-0051, ext. 23, or e-mail deron(at)axiomnews.ca. You can also leave a comment below.