By Deron Hamel
When she was diagnosed with epilepsy at 16, Christine Jamieson says she never could have imagined that one day she would be crowned Miss Canada.
But that's exactly what happened.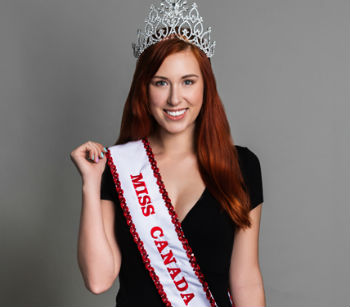 Christine recently won the Miss Canada pageant, competing against 36 contestants in Montreal for the title. She's hoping her story will inspire others living with epilepsy to understand that they should never let a seizure disorder interfere with their ambitions.
At the time of her diagnosis, Christine, now 27, was having up to four tonic-clonic seizures and up to 10 absence seizures per day.
"(Epilepsy) was something that really shaped my life," she says. "Looking back, I am so glad I had the support system that I did, because I didn't have hope at that time in my life.
"I could never have imagined myself even graduating high school or going to university, let alone becoming Miss Canada, so my goal is to inspire others who are in that situation, to let them know that there is hope and there is a future for you."
Christine is working with several organizations, including the Center for Epilepsy and Seizure Education, the Canadian Epilepsy Alliance and the BC Epilepsy Society, to raise epilepsy awareness and to share her story.
Since winning the Miss Canada title in early March, Christine has been busy speaking with epilepsy centres across Canada and internationally to help inspire people and raise awareness.
So far, it has been quite the experience, she says.
"Being able to share my story and have the positive reception that I have had from people with epilepsy and from people who have not had the experience or do not have a family member with epilepsy has definitely been amazing," she says.
"The long-term goal, of course, is always to find a cure (and) to create more education programs, which is something that we are really working on."
You can learn more about Christine by visiting her website.