By Deron Hamel
Epilepsy Ontario is urging people taking 250-mg soft-gel capsules of the anti-seizure medication Zarontin (ethosuximide) to closely scrutinize their capsules to ensure they are not defective, following a warning issued by Erfa Canada 2012 Inc. and Health Canada.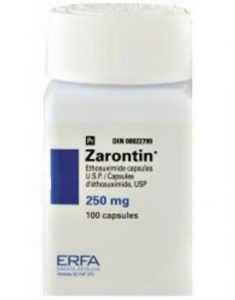 Erfa Canada 2012 Inc., the company that manufactures Zarontin, and Health Canada have received reports of broken or leaking 250-mg Zarontin soft-gel capsules. Reports received by Health Canada have included an increase of seizures from some people taking capsules that had an unusual appearance, for example, dull or cloudy; or sticky, coated with film, broken, cracked, leaking or clumping together.
"Defective capsules – such as those that are cracked or leaking – can lead to a loss of medicinal ingredient, reducing the effectiveness of the medication," Health Canada said in a press release.
"This could potentially lead to a reappearance or an increase in the number of absence seizures among patients."
Zarontin is used to control absence seizures, a type of generalized seizure that usually lasts about five to 15 seconds.
In December, Shelley Enns says she noticed her 11-year-old daughter's 250-mg Zarontin soft-gel capsules were coated with a film and were sticky. Enns took the capsules back to the pharmacy in Windsor that had filled the prescription to have them replaced.
But in April and July her daughter's Zarontin capsules were again leaking and had to be replaced. During this time Enns' daughter was experiencing an increase in absence seizures.
While Enns says she cannot pinpoint the capsules as being the cause of her daughter's increased seizures during this time, the warnings from Health Canada and the manufacturer are concerning.
"I would like to know definitively that what the doctor has prescribed is what's going into my daughter's system," Enns tells Voices of Epilepsy.
As a precaution, Epilepsy Ontario is recommending people taking 250-mg soft-gel Zarontin capsules inspect their medication to look for any defects such as cracks, cloudiness, stickiness or capsules that are broken open or clumped together.
Any bottles with defective capsules should be immediately returned to the pharmacy where they were purchased so they can be replaced. Bottles that do not contain defective capsules do not need to be returned.
Do not stop taking this medication unless advised to do so by your health-care provider, as suddenly stopping treatment could worsen the condition.
"Given that not all capsules are defective, and to avoid a shortage of this medically necessary drug, Zarontin capsules are not being recalled at this time," Health Canada says.
Epilepsy Ontario is also asking that any adverse events related to Zarontin be reported to Health Canada by calling toll-free at 1-866-234-2345, or by reporting online, by mail or by fax.
Click here to visit Health Canada's MedEffectTM website to learn more about this medication alert.
If you have feedback on this story, or have a story of your own that you would like to share, please contact the newsroom at 1-800-294-0051, ext. 23, or e-mail deron(at)axiomnews.com. You can also leave a comment below.