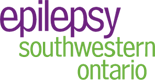 Epilepsy Southwestern Ontario
An Independent Partner Agency with Epilepsy Ontario
About Us
Epilepsy Southwestern Ontario enhances the lives of people who are affected by epilepsy and seizure disorders by providing a network of services that educate, support and build community awareness. Our agency provides services to those living in London/Middlesex, Oxford, Elgin, Huron, Perth, Grey, Bruce, Chatham/Kent, Sarnia/Lambton, and Windsor/Essex counties.
Office Hours
Monday – Thursday : 8:30 a.m. – 4:30 p.m.
Friday : 8:30 a.m. – 4:00 p.m.
Saturday – Sunday : Closed
Services
We offer seizure education and support, children's programming including Game On and Wacky Wednesday, drop in adult programs, adult and family support groups, social events, public education and awareness, workplace advocacy, and Clinic to Community (a health care linkage program for people with epilepsy).
For a full list of events and services, visit the Epilepsy Southwestern Ontario services page.