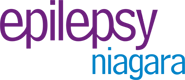 Epilepsy Niagara
An Independent Partner Agency with Epilepsy Ontario
About Us
Epilepsy Niagara is a registered non-profit organization dedicated to improving the quality of life for those living with, and affected by epilepsy. We provide all 12 municipalities within the Niagara Region with support services, education and awareness programs.
Epilepsy Niagara provides empowerment counselling, online support groups, social groups, peer connections, peer mentors, workshops, education presentations, and in-service seizure first aid training.
Hours of operation:
We are open Monday to Thursday 9-2:30pm. We are closed Fridays, weekends and holidays.
As we are a small organization, there may be times where we are at meetings or events outside of the office, leaving Epilepsy Niagara closed. It is recommended that you make an appointment for support services via telephone or email.
Mission
Epilepsy Niagara is a non-profit, charitable agency dedicated to improving the quality of life of people in the Niagara region who are affected by epilepsy. Epilepsy Niagara provides support services, education and public awareness to all persons living with epilepsy and their support network. The term Niagara region refers to all municipalities in Niagara.
Support Services
Individual and Family emotional support
Peer to Peer Network
Epilepsy Wellness Workshops
Information and Referral
Groups such as Women's group, Bucket Club, and Peer Social.
Education and Public Awareness
Community and School presentations
In-staff training (for businesses, schools etc.)
Educational Resource Library
Pamphlets and videos
Information Forums